WORLD OF CONCRETE 2022
2022 at the Las Vegas Convention Center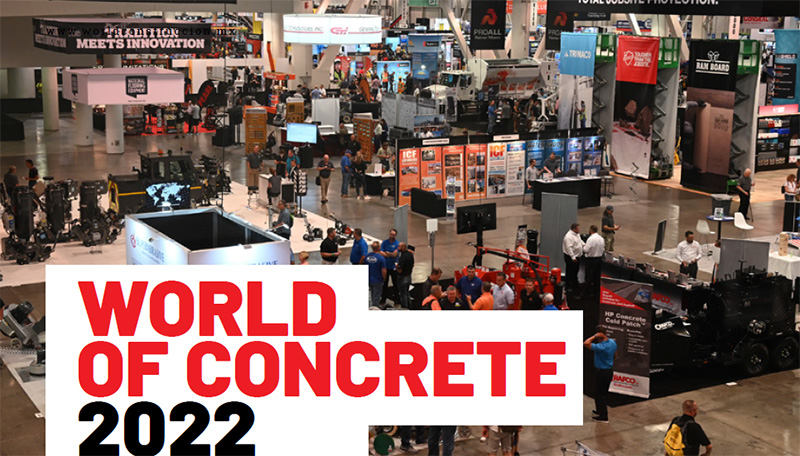 World of Concrete 2022 will take place January 18-20 (Education 17-20), 2022 at the Las Vegas Convention Center. Our community is eager to reconnect, with new attendees and exhibitors registering every day, and we are committed to providing that platform for them.
While your success is a top priority, your safety is too. We want to reassure you that the event will take place, and that we will put safety at the heart of the event experience so we are able to reconnect and get back to business, while keeping our community safe.
World of Concrete 2022 will follow all local health guidelines, including Nevada's mandate for masks to be worn in all public places, regardless of vaccination status. The rule applies indoors only, and includes all casinos, meeting spaces & convention centers, and restaurants/bars in Las Vegas and throughout Nevada.
Masking is an important tool to help provide a safer environment during this current surge of Omicron, and we appreciate all WOC 2022 participants complying with this state mandate for the benefit of all who enjoy coming to WOC this and every year. Additionally, we will have hand sanitizing stations throughout the venue, as well as an enhanced sanitation schedule, and widened aisles to promote social distancing.
World of Concrete is in close partnership and communication with the City of Las Vegas and local health officials for their expertise and guidance, and will continue to keep you updated on any changes to our health and safety program moving forward.
We are thrilled to welcome you to Las Vegas in January, and look forward to starting 2022 off with a fun, productive, safe and successful show!
World Construction News I Magazine
2021