KHOLER
30 years and 30 reasons to continue building history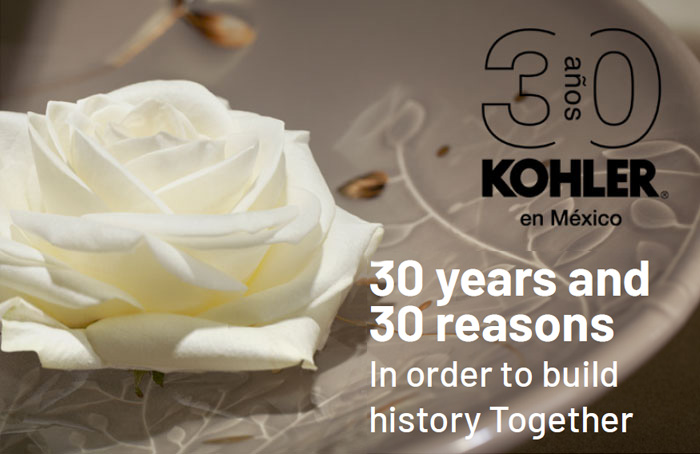 For more than 100 years, KOHLER has been considered one of the leader global companies, in the design of finishes, technology and innovation for luxury kitchen and bathroom faucets 2021 is an eventual year for KOHLER Mexico and distributors, as the celebration of 30th anniversary in Mexico, which has arrived and the success achieved in all these years is worth celebrating, that is a better way of celebrating it at hands of its most important distributor in this country with the opening of the new KOHLER PREMIER SHOWROOM by Interceramic.
30 years in Mexico is of such relevance for the brand that its main executives at a global level will visit our country to celebrate.
Managers that are for 3 days will achieve interesting conversations to the main and most important media of the industry during the various Kohler celebration activities in Mexico.
October 13.- Monterrey Nuevo León, the approach with entrepreneurs through the KOHLER SANIMEX plant.
October 14.- conference and opening at the new KOHLER Premier Showroom by Interceramic in Mexico City and 30th anniversary celebration
October 15.- laying of the first stone in the shoal of the third KOHLER plant in this country
David Kohler
With 30 years of experience in the company, David Kohler became the CEO KOHLER president on June 2015, after holding this position of President and Chief Operating Officer since 2009.
It is the fourth generation of KOHLER family, he runs the company since its inception. in 1873. David Kohler started in KOHLER Co. Working in all divisions of manufacturing on the first line.
David actually serves on the Board of Directors for the following four organizations: KOHLER Co., Interface Inc., Interceramic, and Green Bay Packers.
Notably, David is the general president of the 2015 PGA Championship at Whistling Straits, the sixth important championship organized by KOHLER Co. David will also serve as the General President of the 2020 Ryder Cup at Whistling Straits.
World Construction News I Magazine
2021